What gate decorations can I use? This is a question that many homeowners have when they are looking to add some personality to their driveway or front yard. There are many different types of gate decorations that you can use to improve the look of your property. You can use anything from flowers and plants to lights and holiday decor. Whether you are looking for something simple or something more elaborate, there is sure to be a decoration style that will fit your needs.
In this blog post, we will discuss some of the most popular gate decoration options and provide tips on how to choose the right one for your home. It all depends on the style in which the house and, accordingly, the gate are built. If we are talking about a classical building, then it is worth considering more traditional solutions. For example, an elegant scrollwork overlay or a beautiful mailbox. If your home has a more modern design, you can experiment with different types of lanterns or even use solar lights to create a unique look.
No matter what style you choose, the important thing is that the decoration complements the overall look of your home and makes it more inviting. After all, the goal is to create a welcoming entryway that reflects your personal taste and style.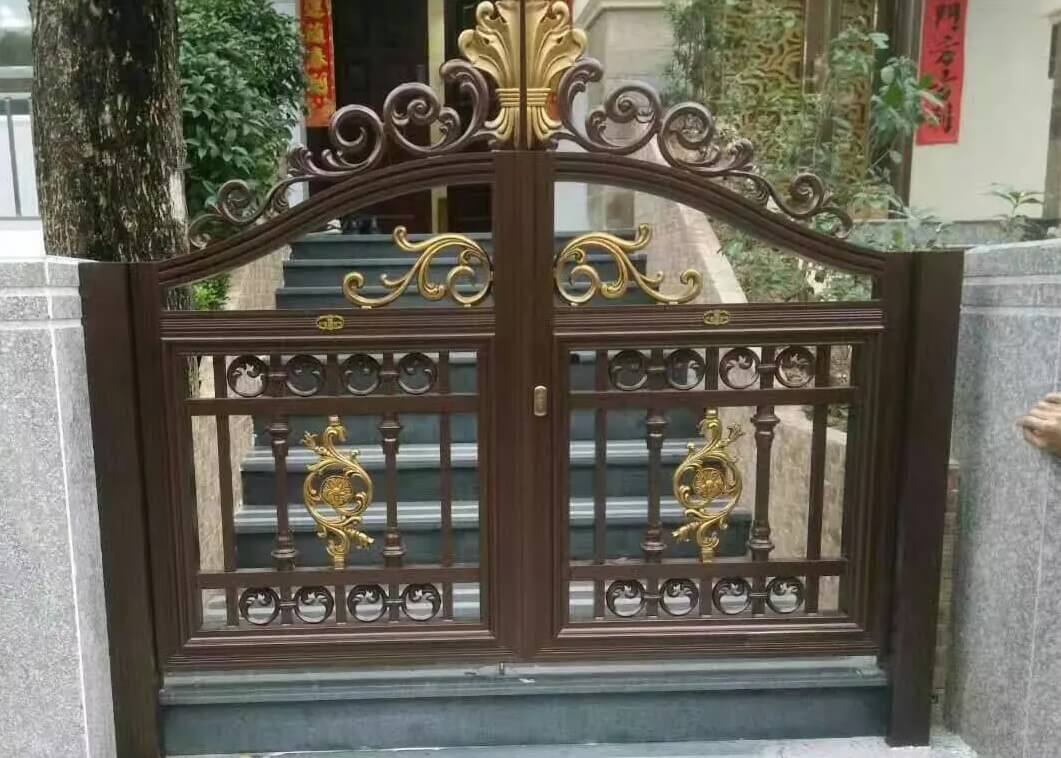 Artistic forging
ne of the most popular gate decoration options is artistic forging. This involves creating a design out of metal that can be used as a gate topper or hanging decoration. You can find many different types of artistic forgings at your local home improvement store or online. If you are looking for something more unique, you can also commission an artist to create a custom piece for your gate.
Artistic forging is a great option if you want something that is both unique and stylish. However, it is important to note that this type of decoration can be quite expensive. If you are on a budget, you may want to consider other options.
Lights and holiday decor
Another popular gate decoration option is to use lights and holiday decor. This is a great way to add some festive cheer to your home while also providing some extra security. Just be sure to use safe, weatherproof lights so that they don't pose a hazard to passersby. You can also use solar-powered lights to save on energy costs.
Drawings
One popular way to decorate your gate is with drawings. You can either draw the pictures yourself or have someone else do it for you. If you're not artistically inclined, don't worry! There are plenty of stencils and tutorials available online that can help you create beautiful works of art. Just be sure to use weatherproof paint so that your drawings don't fade over time.
Hang signs
Another option is to hang signs on your gate. Again, you can either make the signs yourself or have someone else do it for you. This is a great way to personalize your home and make it more welcoming to guests. Plus, it's a fun way to show off your personality! Just be sure to use weatherproof materials so that your signs don't fade or blow away in the wind.
3D stickers
If you want to add some dimension to your gate, consider using stickers. You can find a variety of designs, including nature scenes and geometric shapes. Just be sure to apply them carefully so that they don't peel off in the wind or rain.
Beautiful accessorize for gates
Decorative lanterns, mailboxes, post caps, stamped number plates, molded overlays, various figurines, and other products, the appearance of which is aimed at improving the overall aesthetics of the gate.
There are endless possibilities when it comes to gate decorations. With a little creativity, you can find the perfect way to personalize your home's entrance. So, get creative and have fun! There's no wrong way to decorate your gate. After all, it's your home and you should make it reflect your unique style.
Whichever route you choose, have fun with it and make your gate reflect your personality!